"Oh my gosh, oh my gosh," I exclaimed to Tim as I looked up Haverford College Arboretum, the place I'd be visiting today on our Philadelphia trip.
Before finishing my thought, I frantically googled pinetum to make sure that my excitement was justified before declaring, "This arboretum has a section devoted just to pine trees–a pinetum!"
In my FMNP classes, I've been learning a lot about our Florida native pine trees, but I had never heard of a pinetum before and thought it was so cool that this arboretum was shining a spotlight on this genus of trees!
The Haverford College Arboretum (just outside Philadelphia, Pennsylvania) is a beautiful place to get back to nature while still surrounded by suburban cityscape, with much more to offer than just a collection of pine trees.
I only stopped by because I was in the vicinity with some unexpected time to kill that day on a quick trip to the area and had seen that it was a participating member in the American Horticulture Society's reciprocal admission program, but it didn't take long for me to fall utterly in love with this special place and want to dig deep enough so that I could share it with more people!
Haverford College Arboretum
While I have visited other arboretums before, this was the first arboretum I've visited that was actually on a college campus. Before visiting, I was under the impression that the arboretum was on a portion of the college grounds, but I soon learned that the entire 216-acre campus was the arboretum.
Similarly impressive was the fact that Haverford College is the oldest planned college landscape in the US, designed in 1834 by William Carvill, an English gardener.
The arboretum houses more than 400 species of trees and shrubs, which can be found in meadows, gardens, and wooded areas.
A 2.2 mile nature trail runs roughly around the perimeter of the campus, with many labeled trees lining the trail. There are other notable trees and sights outside of the trail as well.
All of this information is probably a huge part of why the Haverford College Arboretum was recently ranked one of the top 5 arboretums in the country.
Top 7 things to do at the Haverford College Arboretum
Not sure if this location is worth your time? Here are all the activities available!
1. Take a tour
The visitor's guide states that free guided tours of Haverford College Arboretum are offered seasonally; call (610) 896-1101 to get the tour dates.
I would have loved to have been on a tour to learn all the extra detailed information about this space, but my visit was so last-minute that it wasn't possible this time.
If you're also unable to join a guided tour, you can consider following the online tree tour. (In the drop-down menu of that page, select "Campus Tree Tour (#1)."
2. Walk the nature trail (with or without a pet)
This 2.2 mile nature trail is packed with beautiful scenery. While I am very partial to the fall foliage that was bursting from many of the trees on my mid-November visit, I'm sure it is stunning at many other times of the year too!
Although the sun and bright blue skies made for beautiful scenery on my visit, it was the coldest day of fall so far, at about 40°F. I assume it was due to this that I had the trail to myself for much of my visit. The few people I did see seemed to be nearby residents rather than students, with some of them walking their dogs.
Visitors are welcome to bring their dogs here, as long as they keep them on a leash and clean up after them.
3. Go birdwatching
The Duck Pond is just one of many places to spot birds around campus. I saw some beautiful ducks on the water, but I also saw many other types of birds at various points along the nature trail.
If you're a birdwatcher, bring some binoculars and enjoy yourself! (And then let me know what birds are there, because I saw a lot, but I'm not very good at identifying them yet 😂 Ducks and cardinals are the only birds I knew for sure!)
4. Learn some local history at the Penn Treaty Elm
The white-washed story here is that this is a descendant of the tree under which William Penn made a peace treaty with the Lenni Lenape Nation in 1682.
I think it's really cool to use natural spots as markers for historic events. This particular elm tree is the grandchild of the original treaty tree, and its seeds are carefully collected to preserve the "bloodline" of that tree.
However, Haverford College does not shy away from divulging the truth of that historical event, which is that this land was stolen from the Lenape peoples. Though William Penn did supposedly agree to a peace treaty with the Lenape Chief Tamanend, Penn was still involved in the oppression of the Lenape, and his sons later reneged on the peace that had been agreed upon.
Maybe it's because Florida's track record of recognizing history like this is so bad, but I was very impressed by the messaging of this plaque under the tree:
Haverford welcomes this and other opportunities to amend–and correct–our accounts of College history. This marker has been designed in consultation with scholars and individuals from Lenape tribes.

We at the College recognize that we live and work on Lenape land, and pay respect and honor to the caretakers of this land, from the time of its first human inhabitants until now, and into the future. We seek to maintain and build upon our current and ever-evolving connections with members of Lenape tribes and communities, in recognition of our intertwined histories and with a goal of moving toward right relationship between the Haverford of today and Lenape peoples.
5. Check out the pinetum
The Ryan Pinetum is an 18-acre section of campus that highlights a huge selection of conifers.
It was lovely when I visited, but I'm imagining it would be absolutely dazzling during snowy weather!
To get more information on some of the trees, follow the online guided tour of the pinetum. (In the drop-down menu of that page, select "Pinetum tree tour (#2)."
The pinetum area also has a meadow section that I assume would be gorgeous during wildflower season earlier in the fall.
6. Go on state champion tree scavenger hunt
Although the brochure mentioned that this arboretum housed state champion trees, I didn't really look into what exactly that meant until I got home.
Basically, there is a point system to award to trees, based on a tree's height, crown spread, and trunk circumference. The tree that has the highest score within each species in the state is awarded the winner. This seems like a cool way to celebrate keeping old trees alive and healthy!
The nature nerd in me definitely thinks it would be fun to hunt down Haverford's 9 state champion trees if I end up here again. There is even an online self-guided tour that lays out a route to see them. (In the drop-down menu of that page, select "State Champion Trees (#4)."
7. See the Asian gardens
Although the Asian gardens weren't marked on the map and I didn't know to look for them on my visit, they are listed on the website as an arboretum highlight, so it might be worth looking for them!
Visit
If the above activities have piqued your interest, then here are the details you need to know about visiting the Haverford College Arboretum.
Entry
There is no fee to visit, although you are welcome to make a financial contribution by becoming a member or making a one-time donation.
If driving, there is a Visitor's Lot just off of E County Line Road that you can park in. I was walking from the Suburban Square shopping area, and I entered campus on from Lancaster Avenue, entering on College Lane and immediately getting onto the nature trail, which is marked clearly.
Timing
The opening hours are dawn to dusk, every day of the year except for Commencement Day in May.
Although the arboretum is technically open year-round, there is signage warning that the nature trail is not maintained in the winter and to use caution.
I spent about 2 hours on my visit here, which was enough time to walk the full nature trail, stop to take pictures of some of the wildlife, and venture further into campus to see the Treaty Elm.
Accessibility
The trail is not extremely difficult, but there are some elevation changes and the ground is often uneven. Unfortunately, the trail is likely not a good option for folks with mobility challenges, but there are paved sidewalks and roads in other parts of campus that would allow for views of the duck pond and Treaty Elm.
This map shows the points on campus that are accessible.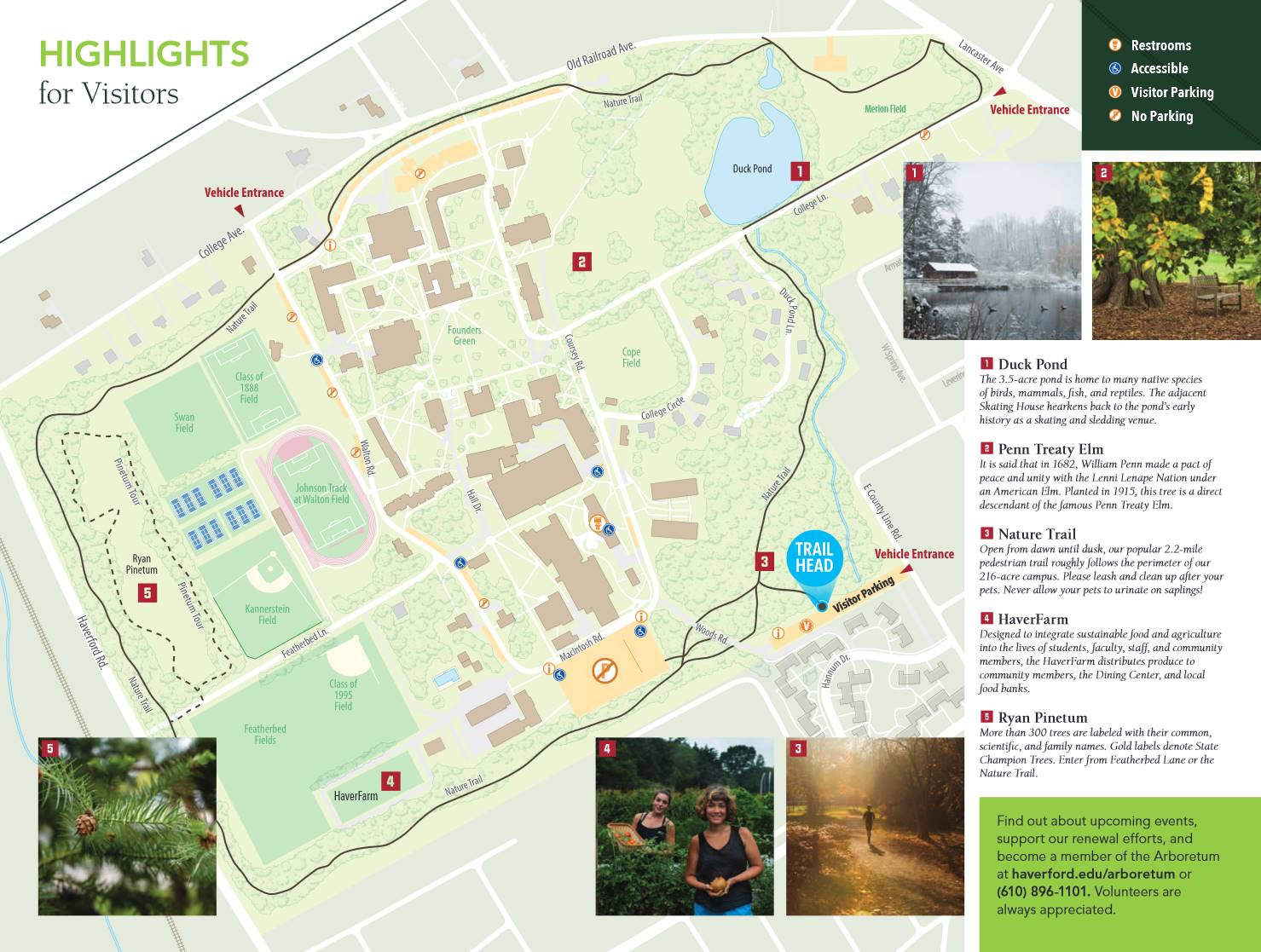 There are public restrooms in the Whitehead Campus Center, also marked on the above map.
Visit with care
While visiting, please make sure to be respectful and limit the impact you have on this space.
Navigate with a conscious compass
A few things that we should strive for on all of our adventures:
Take nothing but photos and leave nothing but footprints–dispose of all of your waste responsibly and don't remove anything from the landscape.
Stay on designated trails.
Do your best to learn more about your destination so that your knowledge is well-rounded.
Respect the rules
In addition to the guidelines above that you should always follow when enjoying a natural space, the Haverford College Arboretum has a few more rules that you should follow:
No bikes on the nature trail
Keep dogs on a leash at all times and off athletic fields (and clean up after your pet)
How to help
If you have the means to make a financial contribution, consider becoming a member of the Haverford College Arboretum–this membership (starting at $30) will also give you admission to hundreds of gardens and arboretums around the country in addition to other perks.
Alternately, you can simply make a one-time donation to help the restoration efforts on property.
Local residents may consider volunteering at the arboretum.
The arboretum strategy plan lists one of the current threats as a changing environment. Hopefully it goes without saying that if we want to continue enjoying beautiful natural spaces like this, we need to address climate change and environmental threats on a global level.
Sustainability
While this arboretum is a beautiful place, there is also a solid ethos behind its existence. Their vision is as follows.
Haverford College Arboretum values the importance of its rich history, natural landscape and the opportunities they present. Working with different communities, we serve to educate and preserve this ecologically diverse habitat and provide stewardship for our collections for generations to come.

Haverford College Arboretum strategic plan 2020-2024
Furthermore, the arboretum team is led by the guiding principles of stewardship, community, history, education, and sustainability.
Here are some of the things they're doing that I think set them apart from other arboretums or college campuses. It's easy to see why they were ranked #4 in the top 10 zero waste campuses last year!
Duck Pond restoration: In 2017, the Duck Pond got a huge refresh. The water was cleaned, invasive species were removed (thanks in part to some goats they hired), and native trees were planted around the pond.
Maintain relationships with the Lenni Lenape (the people whose ancestral home is now being used for this campus)
The Haverfarm is a year-round farming and educational space designed to integrate sustainable food and agriculture into the academic and extracurricular lives of Haverford students, faculty, staff, and community members. With a focus on interdisciplinary and experiential learning, the Haverfarm invites students and other members of the community to engage with issues of food justice and local, progressive agriculture. Produce is distributed to students, community members, the Dining Center, and local food banks.

Haverford College Arboretum revitalization page
Electric vehicles: the college is prioritizing hybrid and electric vehicles in their fleet as well as making charging accessible to students, faculty, and staff with EVs.
Green roofs are installed to "help prevent stormwater runoff, mitigate heat island effects, conserve energy, create wildlife habitat, and improve the aesthetic environment."
Minimize the use of pesticides and fungicides.
Fight invasive plants and focus on planting more native plants.
Restore their wetlands habitat
Rain gardens that protect the watershed.
Plan for climate change by planting more heat-tolerant trees
Support community gardeners
Build programs to benefit local residents equitably
Gift 2-year memberships to graduating seniors of Haverford College
The dining hall has a reusable takeout box system.
Install and monitor bat and bird boxes
The college president's house is landscaped with plants that are native to this part of Pennsylvania.
A campus "Re(Use) Store" to divert waste from landfill and provide items to students for free or at a discount.
Nearby Eco-friendly Eats
It's no secret that plant-based foods are typically the most eco-friendly option, so that information guides my food recommendations on this website.
It's also a good idea to prioritize restaurants that implement other sustainable practices, like reducing the impact of their packaging and serving materials.
HipCityVeg: This full-vegan establishment's Ardmore location is a 20-minute walk from the arboretum. (I actually walked to the arboretum straight from here!) HipCityVeg serves delicious food that has fooled some of the omnivores I've eaten here with, and all of their packaging is compostable. I wrote more about it in my trip report, but the gist is that I highly recommend going here. Consider ordering the smokehouse burger!
Coop Cafe: If you want food while you're on campus, this is your option. The menu isn't huge, but there are a few plant-based items on it!
I haven't been to any of the following places, but they are some options that are on my radar.
Other Nearby Attractions
Valley Forge National Historical Park: Since I was only in the area for a very short trip, this is the only other destination I visited. This space is a beautiful natural area with a significant amount of history. I wrote about it in my trip report here.
There is obviously a lot to do in the actual downtown area of Philadelphia, and I don't think I'm equipped to write about that in any detail yet, as my only experience there was for about 2 hours in 2018 when I stopped by on a road trip to see Independence Hall and eat at HipCityVeg.
Instead, here are all the nature-focused places on my to-visit list in the region. Yes, there are a lot–you can see why Philadelphia is called "American's Garden Capital!"
As you can see, Haverford College Arboretum is a lovely place to spend a few hours, and there is plenty more to do nearby. I hope you'll consider visiting it if you're in the area!
Would you visit Haverford College Arboretum? What are your favorite nature spots or some of the places you'd like to visit? Let me know in the comments below!